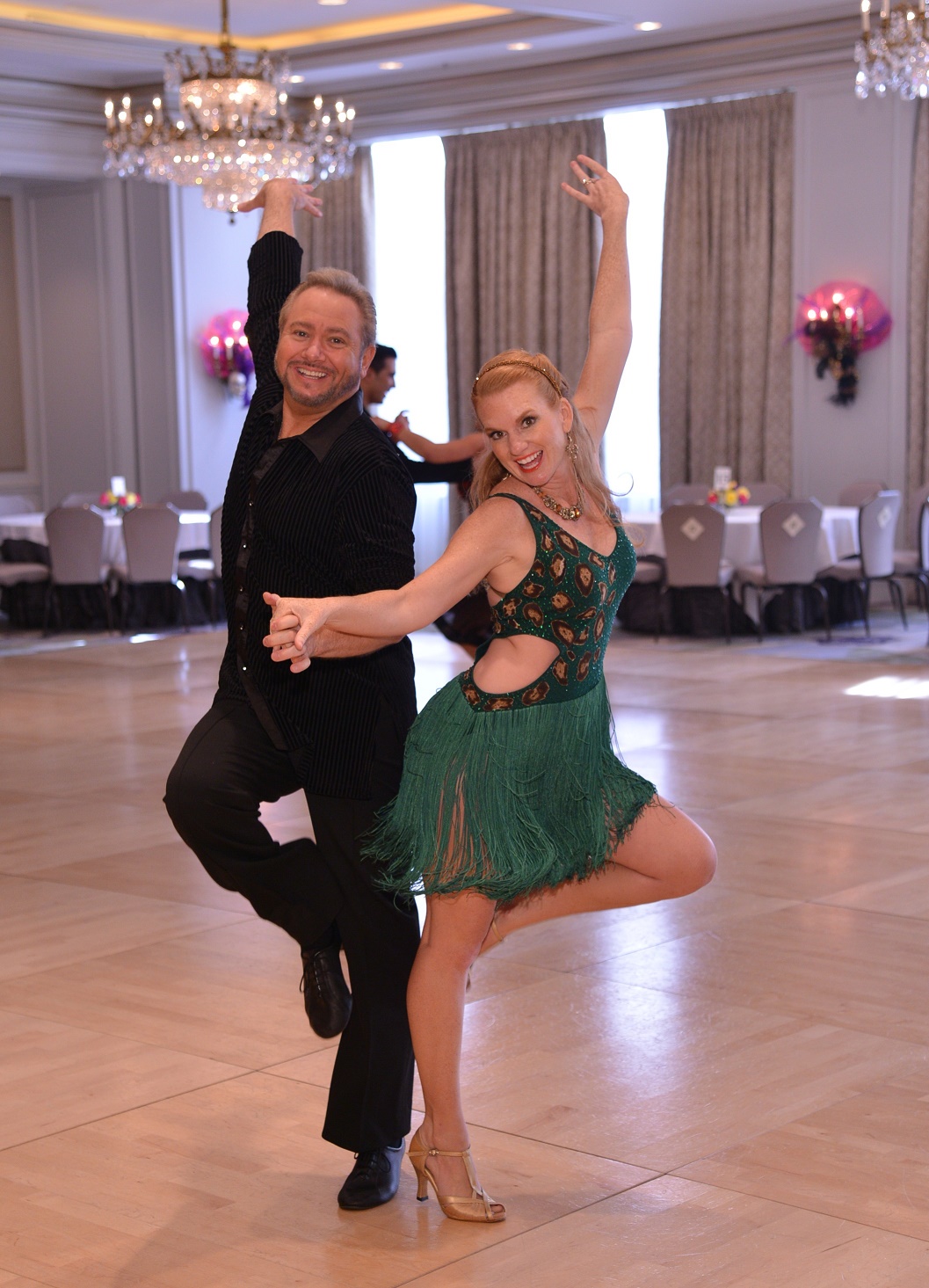 DANCESPORT (COMPETITIVE DANCE)
DanceSport is the term used for competitive Ballroom Dance. It is open to any dancer, of any skill level and age. Most students participate in Pro/Am dance competitions. This means a student (Amateur) is dancing in partnership with his or her instructor (Pro). Students always compete against others at their own skill level and age category (i.e. you are dancing among your peers).

DanceSport gives a student's dance education concrete meaning by providing specific goals to work towards and milestones to attain. It also provides the dancer with an opportunity to showcase the hard work and time that is invested in dance education. It is the ultimate experience for dancers who want to make dance more than just a weekend's recreation.
        PRIVATE LESSONS
Whether you are a social or competitive dancer, private lessons will enhance your skills through    personalized instruction tailored to your individual goals, skill level, and interests. Private lessons focus the instructor's attention on helping you to develop a higher level of understanding of the mechanics and technique of dance, along with accelerating the learning process and providing a wholly supportive experience.

Whether you want to boost your confidence in social dancing or reach for your dreams as a competitive dancer, the private lesson is the most effective path for reaching your goals.
       WORKSHOPS
Workshops are a concentrated group learning experiences designed to enhance a student's understanding and performance of a specific dance, with the challenge of more complex patterns and choreography. A workshop focuses on one individual dance style and provides participants the opportunity to work together in small groups and to practice dancing with a variety of partners, which greatly enhances a student's social dance skills.

        WEDDING
Wedding dance instruction creates a lasting memory of your first dance as husband and wife. 

The bride and groom are traditionally the first to dance at a wedding celebration. Imagine dancing to your special song with a confidence and joy that will be the highlight of your reception! 

Starting with your vision for your first dance, and the song you have chosen, you will receive a comprehensive evaluation to ensure your comfort and success in your big moment. The Wedding Dance package includes 5 to 10 private lessons and personalized dance choreography, complete with an entrance and exit.

Fathers and daughters, mothers and sons, parents, the wedding party, family and friends can all be included to benefit from relaxed and fun instruction and to make their traditional dances the talk of the town. Learning to dance for this joyous occasion can be easy and rewarding. 

To ensure your greatest success, begin lessons several months in advance of your wedding date. The final weeks before the wedding can be hectic. An organized plan for instruction and practice will allow you time to learn and polish your routine.

All wedding packages include dance choreography and practice time, subject to studio availability.